Pack 127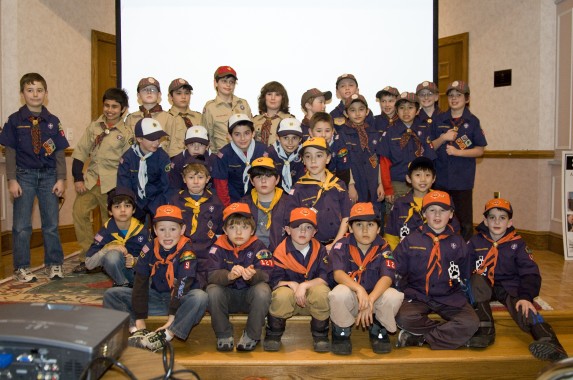 Pack 127 welcomes boys in grades 1 through 5 who live in Lincoln or attend the Lincoln Public Schools.  Boys can join at any grade level, and no prior scouting experience is necessary.  The Cub Scout program offers boys new adventures, confidence building experiences, and fun with their friends.  Our pack is chartered through Saint Julia Parish in Weston and Lincoln.
The Den
Dens are formed for each grade level. Each den has one or two adult leaders.  With help from the parents, they lead meetings using ideas outlined in the Cub Scout handbooks.  Dens typically meet once or twice a month throughout the school year, and each den selects its own meeting locations and times.
First Grade Tigers
Second Grade Wolves
Third Grade Bears
Fourth and Fifth Grade Webelos
The Pack
The Pack is the sum of all dens.  Pack meetings are generally held the first Friday of each month during the school year from 6:30 – 8:00 pm in the Smith School Gymnasium, Lincoln School, Ballfield Road in Lincoln.  We focus on teaching the boys skills and exposing them to experiences they may not have otherwise.  Some past activities include:
Sleep on a Battleship
Collect for Local Food Pantry
Launch Rockets
See How the Newspaper Is Made
Build and Race Model Cars
Use Woodworking Tools
March in Parades
Fishing and Camping
Visit the Police and Fire Station
Visit a Local Television Station
Learn About Fire Safety
Karate Demonstration
Make Care Packages for Soldiers
Nature Hikes
Roller Skating
Learn about Astronomy
The Family
Cub Scouting is a family activity. Families are involved in scouting in many ways, from helping the boys complete requirements for the Bobcat, Tiger, Wolf, Bear and Webelos badges to assisting with Den and Pack activities. Pack 127 is organized and run solely by parent volunteers. Our goal is to have parents or caregivers from every family help with at least one Pack event in addition to being involved with their son's den.
To register for Cub Scouts or for more information, please contact Cubmaster Joe Skenderian at cubmaster (at) lincolnscouts.org.